Investing in knowledge pays. Big time.
We solve business challenges that reduce productivity and hinder innovation. That means your ROI with our platform could be impressive.
You don't have to take our word for it
Our thousands of customers will tell you.
Independently conducted research
will tell you, too. Your ROI could be

191

% or more.
We commissioned Forrester Consulting to conduct a Total Economic Impact™ (TEI) study to examine the potential return on investment (ROI) enterprises may realize with Stack Overflow for Teams.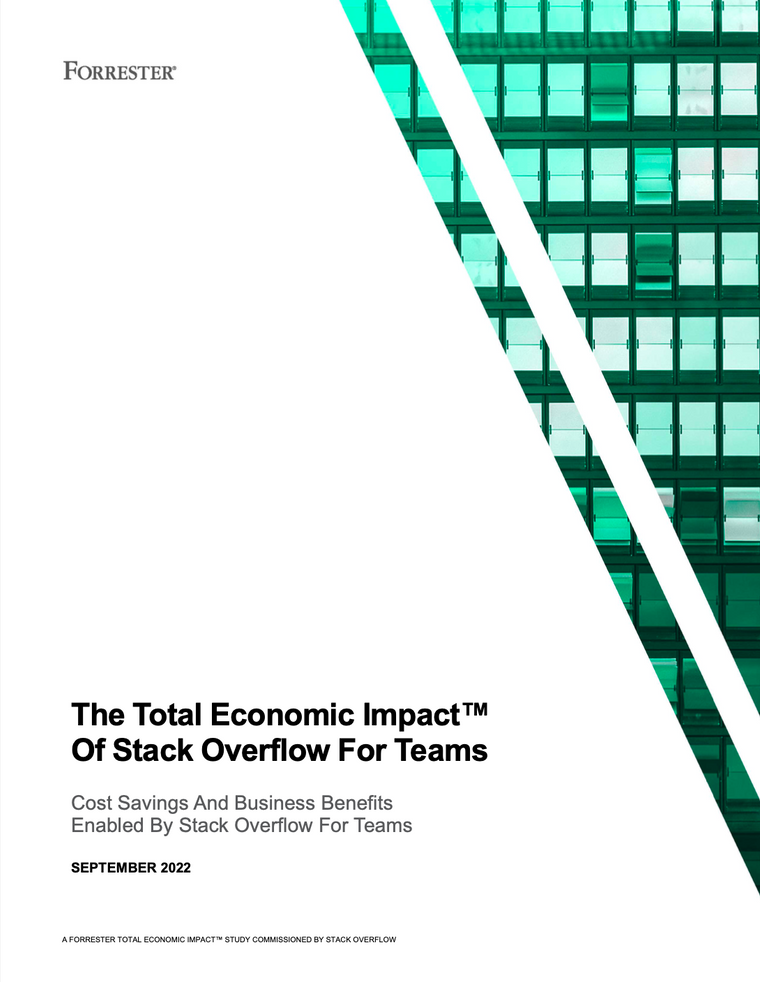 191% quantified through the composite customer organization as Net Present Value (NPV) over a three-year, risk-adjusted period.
Top benefits that contribute
to a positive ROI…
More time for your team members
Developers and technologists immediately attain the knowledge they need for their jobs, freeing up time to tackle more complex work.
Better workplace environment and improved workplace experience
From leaderboards to reputation points, there's a reason developers use Stack Overflow in their spare time. And why they want to work at places that use it.
Increased innovation
Stack Overflow for Teams helps break down silos and connects people across your organization. More time + more collaboration + engaged teams = a lot more innovation.
Faster onboarding for new employees
With all the answers, Subject Matter Experts, and processes laid out in a centralized place, you can ramp up new employees faster.
Want to see what your ROI could be?
Speak with a member of our team to learn how you can save.
Named in two of G2's lists of Best Software for 2023!
4.5/5