How a searchable knowledge management system helped Dropbox reuse knowledge and work more effectively
Founded in 2007, Dropbox offers secure, flexible cloud storage and file sharing for individuals, teams, and enterprise customers.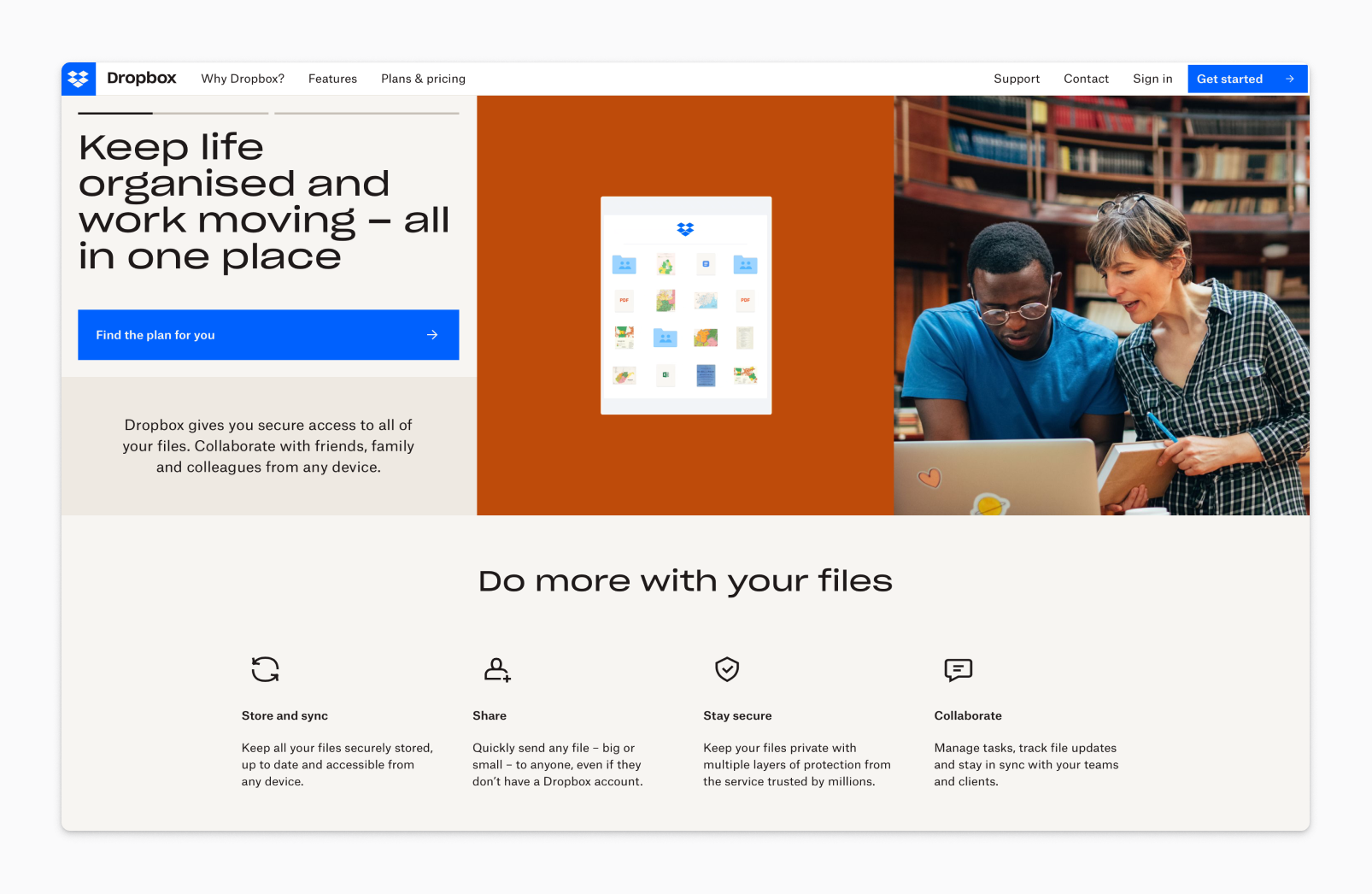 Founded in 2007, Dropbox offers secure, flexible cloud storage and file sharing for individuals, teams, and enterprise customers. With Dropbox, teams can work together in one place; manage tasks; and securely store, sync, and share files. Organizations across education, media, technology, retail, and construction use Dropbox as a smart workspace: a digital environment that connects a team's content, their preferred tools, key stakeholders, and critical conversations in one place—rather than fragmented across different communication and collaboration channels. In all, more than half a million teams rely on Dropbox Business to get things done and protect sensitive information.
The problem: Hours wasted answering repeat questions or searching for the right information
Lily Chen is an Android engineer working on the mobile foundations team at Dropbox. Their group became a go-to resource within Dropbox for mobile engineering questions, so the team often found itself overwhelmed with repeat questions that were answered (or not) in different documents and formats across their then-current set of tools. Lily's team needed a knowledge management solution that was centralized and searchable, so people could find the information they needed easily without needing to ask the same questions over and over again.
"Our big pain points were finding the right links to send around and searchability," Lily said.
"We had a lot of repeated questions, for my team in particular. And we found that we had a couple of teammates who spent a significant amount of their time just fielding questions from other mobile engineers… And a lot of the time they were just responding with links because other people couldn't find the links."

—
Lily Chen, Android engineer at Dropbox
Members of Lily's team who had valuable historical knowledge were spending time and energy answering questions they had already answered—often responding with links to information the questioners theoretically had access to, but couldn't locate because the knowledge base wasn't searchable. Clearly, this wasn't an effective or scalable approach.
Initially, Lily was looking for a knowledge management solution that would make it easy for everyone to find the answers they needed, when they needed them in a centralized, searchable location. "My team had a quarterly goal of exploring options for knowledge management," they said, "and then I was put in touch with Ju Shin Lee, a Product Manager who was tackling broader knowledge management solutions for the wider Dropbox community."
Both for the mobile team and across the company, Dropbox needed a solution that would document historical knowledge and connect people with the answers they needed without interrupting developer workflows. Ian Gordon, a Dropbox Engineering Manager, reflected:
"We had these subject matter experts and they have a ton of arcane knowledge locked in their brains or possibly in some documents, but getting people to the right documents was really hard."

—
Ian Gordon, Engineering Manager at Dropbox
The challenge for Dropbox, in Ian's words, was: "How do we solve the problem of finding answers to questions that are either common and keep coming up—frequently asked questions—or questions that are very detailed and specific and may only live in a couple people's area of expertise?"
The solution: A tool to capture and discover knowledge
Ju Shin, the Product Manager, saw that the problems Lily and Ian were encountering were also challenges for Dropbox as a whole. Across teams, the company wanted to grow its knowledge base organically, capturing and sharing knowledge without disrupting developer's workflow or demanding too much time from internal SMEs.
Dropbox has been a leader in cloud storage and file sharing for close to 15 years, but their shift to a remote-first workplace over the last two years meant they needed something centralized and searchable to enable knowledge reuse and prevent rework across teams.
Dropbox began their search for a new solution by surveying their developers to find out how much time and effort they spent answering questions or tracking down previously-answered questions. One version of the survey went to managers and another to individual contributors (ICs). The findings confirmed that people were indeed spending significant time answering questions or looking for answers to their own queries.
Time saved for Dropbox managers...
Thirty-four percent of managers said their engineers spent five hours a week answering technical questions, while 48% said their team members spent between five and seven hours a week looking for technical information they needed.
...And for ICs
Among ICs, 24% reported spending two hours a week looking for answers to questions they had on infrastructure, components, platforms, systems, or code owned by other teams. About 43% spent between three and five hours a week searching for information. When it came to answering questions, about 40% of ICs reported spending one hour a week, while 46% spend more than an hour.
Like Lily, Ju Shin cited searchability and the ability to document historical knowledge for reuse as the top attributes Dropbox needed in a solution. "We picked Stack Overflow to grow that Q&A function," he explained. "To bring conversations out of the various siloed channels where they had been taking place (email, Slack), which were crowded and full of noise, and put them in a form where knowledge was discoverable."
The approach
The pilot
Developers at Dropbox were already familiar with Stack Overflow's public platform; its searchable Q&A platform is a trusted resource for developers, and most already knew how to search and share answers. So it was an easy step to recruit a small group of SMEs and moderators on the mobile team to try Stack Overflow for Teams. They set out to capture, document, and share internal knowledge. Using the mobile team as a pilot group also made sense because the team comprised SMEs and was the main consumer group for the answers.
The mobile team's relatively small size was another factor that made it ideal for a pilot, Lily said: "Mobile turned out to be a good place to pilot, to try this stuff out in a closed environment. We're under a hundred people total in the mobile org in comparison to the wider Dropbox [which has more than 2,500 employees]."
Dropbox worked with Stack Overflow on a training session for the pilot group, coordinated with a "spring cleaning" week where the team was focused on closing out unfinished projects. Lily asked mobile developers to seed their new workspace with three to five questions they had been asked before, plus the answers. That got the conversation started. "If we go back and look at the metrics," said Lily, "that week is a very vertical line for the number of questions and answers received."
The rollout
After running Stack Overflow for Teams as a closed experiment with the mobile team for a month, Dropbox began rolling out the tool to the rest of the company: announcing it at an all-hands meeting, recruiting more moderators from across the company to seed additional questions and answers, and scheduling more training sessions. As the number of users grew, Dropbox refined guidelines and showcased the best practices that were working for the mobile team.
When Dropbox launched Stack Overflow for Teams, they also organized a scavenger hunt with the larger EPD (engineering, product, and design) team. This drove adoption by encouraging people to use Stack Overflow. Dropbox also coordinated with Stack Overflow to offer swag to people who participated in the scavenger hunt.
Thanks to the mobile team's positive reputation as Dropbox's pioneering early adopters, interest in Teams was high, and Dropbox received many requests for early access. Ju Shin, the Product Manager, recalled, "I was getting so many requests around, 'Hey, can our team use it? Can I use it? Can I get access?'"
The results
Since rolling out Stack Overflow for Teams, Dropbox has seen positive results across the organization, from fewer repeat questions and more knowledge reuse to building a company-wise culture of knowledge sharing. With Stack Overflow for Teams, people are more comfortable asking questions, and they have confidence they'll find the information they need.
And with Stack Overflow for Teams helping to capture and organize institutional knowledge, the Dropbox team doesn't worry about losing crucial information if team members move on to other jobs or take an extended trip to the Bahamas.
Here are the results they've noticed:
More knowledge reuse: Fewer repeat questions, since users can easily search for and discover the knowledge they need
Improved work experience: Knowledgeable team members don't have to spend hours (re)answering questions
Seamless onboarding: New employees get the information they need; new and outstanding questions are answered for the next cohort
Community health: Stack Overflow for Teams helps the community self-moderate and makes knowledge sharing an integral part of the Dropbox community
To measure the success of the adoption, Dropbox tracks two primary metrics: time to answer and reusability. They create monthly reports on these two metrics.
In less than a year, the Stack Overflow for Teams instance grew from 700 users to close to 1,200. It takes an average of less than two hours to get an answer to new questions and knowledge is reused over 40 times per day on average. They continue to rely on the familiar Q&A structure of Stack Overflow for Teams, which has been very useful, said Ian: "I do like that it's very purpose-built, you know, like I have a question, someone will provide an answer. I can describe that in a sentence. It's been very useful in that regard."