Open positions
Careers at Stack Overflow
Join us and help empower the world to develop technology through collective knowledge.
Ensure our clients are successful using our products, and communicating with developers.
Build and ship products that millions of developers use every day.
Driving revenue for all lines of business, our sales team members sustain and power Stack Overflow's impact through knowledge-sharing, advertising, and technical talent solutions across organizations.
Stack Overflow does not discriminate in employment matters on the basis of race, color, religion, gender, national origin, age, military service eligibility, veteran status, sexual orientation, marital status, disability, or any other protected class. We support workplace diversity.
Life at Stack Overflow
Learn more about our core values, benefits, and commitment to diversity, equity, and inclusion.
Learn more
Get social with us
Partnerships & Recognition

Built In
Best place to work: Remote

Built In
Best place to work: New York City
Comparably
Best Company Outlook
Comparably
Best Company Work-Life Balance
Comparably
Best Company Compensation
Comparably
Best Places to Work in New York
Comparably
Best Leadership Teams
Comparably
Happiest Employees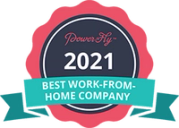 PowerToFly
Best work from home company